Diary of a Wimpy Kid
225pxpx
The first book in the series

Author

Jeff Kinney

Publisher

Amulet Books

Publication Dates

2007-2010

Genre

Realistic Fiction

Books in Series

5 (Main); 2 (Extra)
Diary of a Wimpy Kid is a book series by Jeff Kinney. It chronicles the everyday life of boy Greg Heffley and his adventures in middle school. The series has been very popular with kids and critics alike, and has even been made into a feature film.
Main Series
Edit
Diary of a Wimpy Kid: Greg records his experiences in a middle school where he and his best friend, Rowley, undersized weaklings amid boys who need to shave twice daily, hope just to survive, but when Rowley grows more popular, Greg must take drastic measures to save their friendship. (Released April 1, 2007)
Diary of a Wimpy Kid: Rodrick Rules: Greg tries to survive his second year in middle school, while not angering his older brother Rodrick, who threatens to release information of an embarrassing thing that occured to Greg over the summer. (Released February 1, 2008)
Diary of a Wimpy Kid: The Last Straw: Greg Heffley nimbly sidesteps his father's attempts to change Greg's wimpy ways until his father threatens to send him to military school. (Released January 13, 2009)
Diary of a Wimpy Kid: Dog Days: Middle-schooler Greg Heffley records his attempts to spend his summer vacation sensibly indoors playing video games and watching television, despite his mother's other ideas. (Released October 13, 2009)
Diary of a Wimpy Kid The Ugly Truth: Greg records his last year in middle school as he faces puberty, and his biggest fight against Rowley yet. (To be released November 1, 2010)
Supplementary Books
Edit
Diary of a Wimpy KId: Do-It-Yourself Book: Packed with original art and material, this book features ruled pages and empty word balloons so you can create your own on stories and comics, list your favorites and least faves, and keep your own daily journal. (Released October 1, 2008)
The Wimpy Kid Movie Diary: A special book made to tie-in with the release of the movie. It features illustrations drawn by Jeff Kinney and exclusive photos from the film to document how the book was made into a movie, or "how Greg Heffley went Hollywood". (Released March 16, 2010)
A poster of Greg Heffley sitting on the toilet, reading a book, with the slogan "READ" above his head, has been released.
Characters
Edit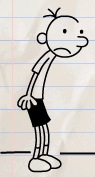 Greg Heffley : (picture seen above, left) Gregory Heffley is the main character, narrator, and the protagonist of the series who faces difficulty in middle school. He is also the "wimpy kid", as each novel in the series is one of his "diaries". He has a good friendship with Rowley Jefferson, although Greg often wonders how the two can possibly be friends. Greg foibles include being underweight, lazy, somewhat greedy, boastful, self-centered, arrogant, rude, selfish, paranoid and obsessed with video games. Greg is terrible at school, failing most of his subjects, not to mention being disliked by his teachers, and he is quite lazy, often objecting to his father's attempts to get him to exercise and participate in sports. His many schemes to make money or impress girls fail almost all the time.
Rowley Jefferson: (picture seen above, right) Rowley Jefferson is Greg's best friend. He has overprotective
Rodrick Heffley: Rodrick is Greg's 16 year-old brother and is one of the major antagonists of the series since he often bullies Greg. It is unknown why Rodrick treats Greg in such a poor manner. Rodrick is more cruel, lazy, and uneducated than Greg and is a fan of heavy metal, being the drummer in a heavy metal band called Löded Diper. Rodrick tries to humiliate Greg several times. Rodrick is not the smartest member of the Heffley family, since he does not make any sort of effort at school.
Susan Heffley (Mom): Susan Heffley is Greg's mother. Susan is extremely over-reactive. She tries to be a good mother and wife, but she constantly embarrasses Greg and appears to not care. Susan apparently knows very little about children and teenagers of the modern age and her ignorance often bothers Greg and Rodrick. She constantly tries to get Greg to enjoy reading, to pull the family together, and to help Greg and Frank to accustom themselves to the music of Rodrick's band, but none of her plans ever seem to work. She and her husband pay far more attention to Manny than their other two sons, giving their youngest everything he asks for. Susan often gets Greg into conflicts, resulting in much chaos and embarrassment.
Frank Heffley (Dad): Frank Heffley is Greg's father. He is very unpredictable and has a strong interest in U.S. history, especially the Civil War. Frank, so far in the series, is very emotional towards Greg. He is known to be easily bothered by the simplest things and is constantly trying to get Greg to participate in sports and make him more manly. Mr. Heffley dislikes most video games, heavy metal music, and teenage delinquents. He is very serious about things, such as when he threatens to send Greg to military school. He is a hard worker, and has a poor relationship with his sons since the three virtually cannot relate to each other at all.
Manny Hefffley: Manny is Greg's 3 to 5-year-old brother and is even more spoiled than Rodrick and Greg combined. Manny is extremely selfish and paranoid, not caring at all for his brothers and panicking when he thinks something might harm him in any way. Manny also isn't good at potty training. When Greg has a sleepover, Manny always interferes, often causing Rowley to go home early. Manny also gets many rights that Greg didn't have when he was his age, such as bringing toys to church to pass the time.
The Movie
Edit
Fox 2000 released a film adaptation of the series called
Diary of a Wimpy Kid
(go figure), that was released March 19, 2010. It is rated PG for "mild rude humor and language." It is directed by Thor Freudenthal, and starts Zachary Gordon as Greg, Robert Capron as Rowley, Chloë Moretz as a new character named Angie, Devon Bostick as Rodrick, Rachael Harris as Greg's mom, Steve Zahn as Greg's dad, Connor and Owen Fielding as Manny, Karan Brar asChirag Gupta, and Grayson Russell as Fregley. This movie is both live-action and animated. The animation-part looks just the illustrations from the book.
So far, the film has received mixed reviews from critics. It currently holds a "Rotten" rating of 52% on the film review aggregator site Rotten Tomatoes, based on 52 reviews. The consensus given is "Unlike its bestselling source material, Diary of a Wimpy Kid fails to place a likable protagonist at the center of its middle-school humor -- and its underlying message is drowned out as a result." It also holds a "Mixed or average" rating of 56 at Metacritic, based on 24 reviews.
Roger Ebert gave the film a three and the half out of four star rating, he wrote "It's nimble, bright and funny. It doesn't dumb down. It doesn't patronize. It knows something about human nature. It isn't as good as A Christmas Story, as few movies are, but it deserves a place in the same sentence". The film opened in second place at the weekend box office grossing $21 million, behind "Alice in Wonderland" which grossed $34 million in its third weekend.
It is said that if the movie is successful in the box office, a sequel primarily based on "Rodrick Rules" will be made. And since it has, writers are working on the script right now.
Movie Sites
Edit
Official Movie Site: diaryofawimpykidmovie.com
Cartoon Network site: http://www.cartoonnetwork.com/wimpy
"Wimp Yourself" game: http://www.wimpyourself.com/
"Cheese Touch" game: http://www.diaryofawimpykidmovie.com/cheesetouch/
Wimpy Kid Kwiz: http://www.diaryofawimpykidmovie.com/quiz/
"Greg Heffley" audition site: http://www.iamthewimpykid.com
External Links
Edit
Official Website: Official Wimpy Web
Wikis:Wimpy Kid Wiki, DOAWK Wiki